Rustic wood flooring
Floors made of natural boards are very popular. More and more people want to enjoy interiors with the beauty of natural wood, covered with a spectacular pattern of grains, knots and other features of natural wood. Barlinek's range includes stylised rustic boards which are looking as solid floors.
Rustic boards from Barlinek are finished in natural oak wood, whose beauty has been highlighted by brushing and chamfering. They have a large number of decorative knots. Rustic floors are available in a versions finished with oil or lacquer.
The three-layer structure of Barlinek engineered wood flooring ensures its dimensional stability. Rustic boards have a beautiful look. Proper care of the rustic floor will make them look beautiful for many years.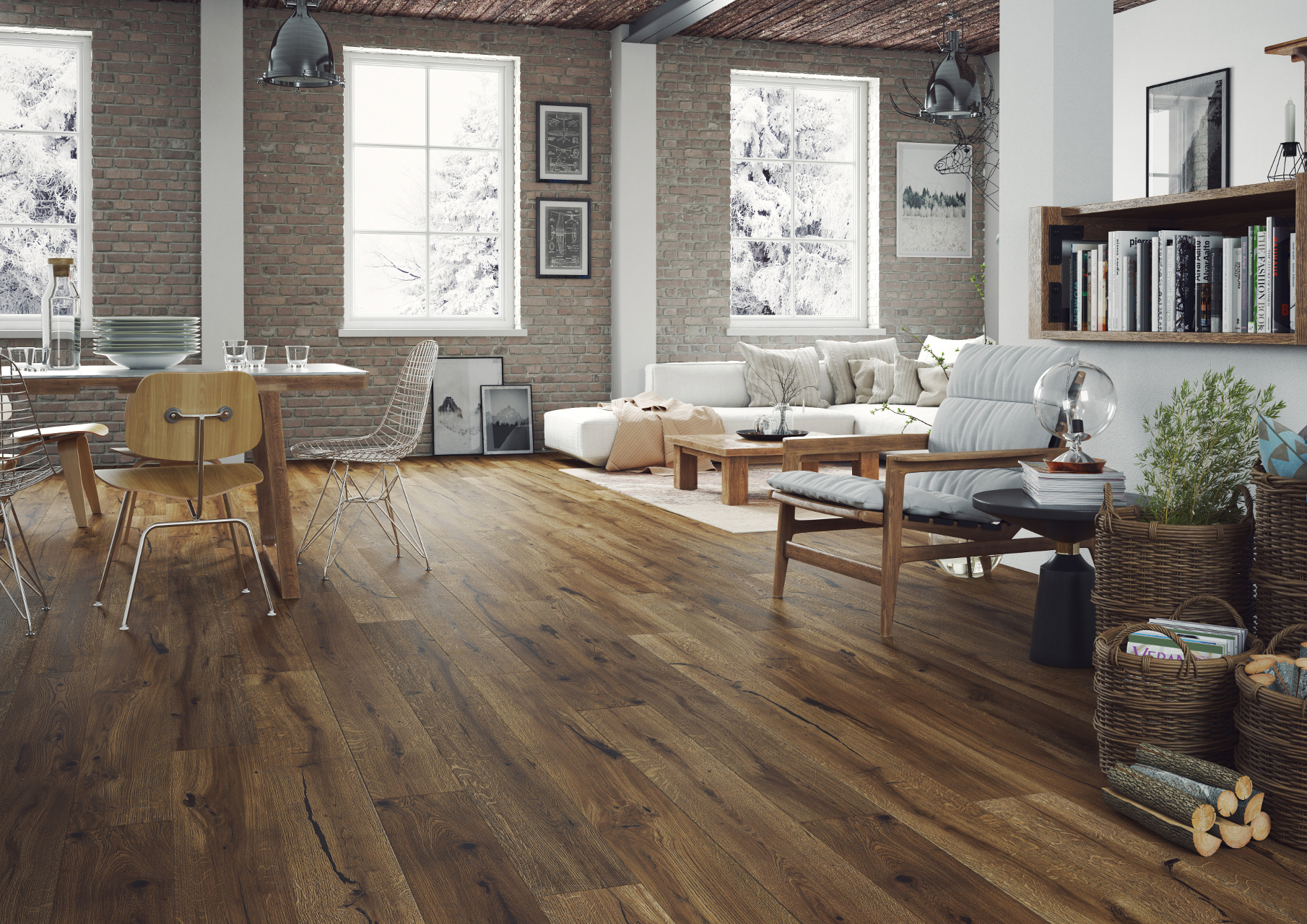 BARLINEK ENGINEERED WOOD FLOORING:
Rustic wood flooring in various-style interiors
 Retro – arrangements in this style are full of tasteful additions. Rustic oak wood flooring add character to the interior. Stylised boards look beautiful in spacious rooms. A clear wood pattern and its texture create a cosy, intriguing, atmosphere.
 Country– Lite

rustic wood flooring

are the hallmark of rural homes. It is important that they are warm and have a visible wood structure. Their natural look will be greatly highlighted by brushing. For rural interiors, you should select primarily rustic flooring in neutral shades.
 Vintage – stylised floors in interesting colours become a great background for highlighting original furniture. The grain and knots visible on rustic wood flooring are in themselves a unique decoration in this style. What's more, they can be used to easily mark the contrast between the old and the new.
 Industrial – a rustic wood flooring is a very-important element, emphasising the industrial character of the arrangement. The floor should look as if it was made of solid boards. It would be nice if one could see traces of past years in it – numerous knots and abrasions.
Pure Vintage rustic wood flooring
Barlinek's designers have created a special collection for those looking for beautiful rustic boards. They perfectly reproduce the beauty of natural, solid wood, including its effective pattern, as well as minor damage and imperfections. The floors from the Pure Vintage collection are an excellent decoration for lofts, luxury flats in tenement houses, and minimalist apartments. It is advisable to finish the wooden floor with a spectacular frame made of wooden baseboards. You can made it in wood of the same colour as the boards, or choose a contrasting combination (e.g. when the rustic oak flooring is combined with white skirtings).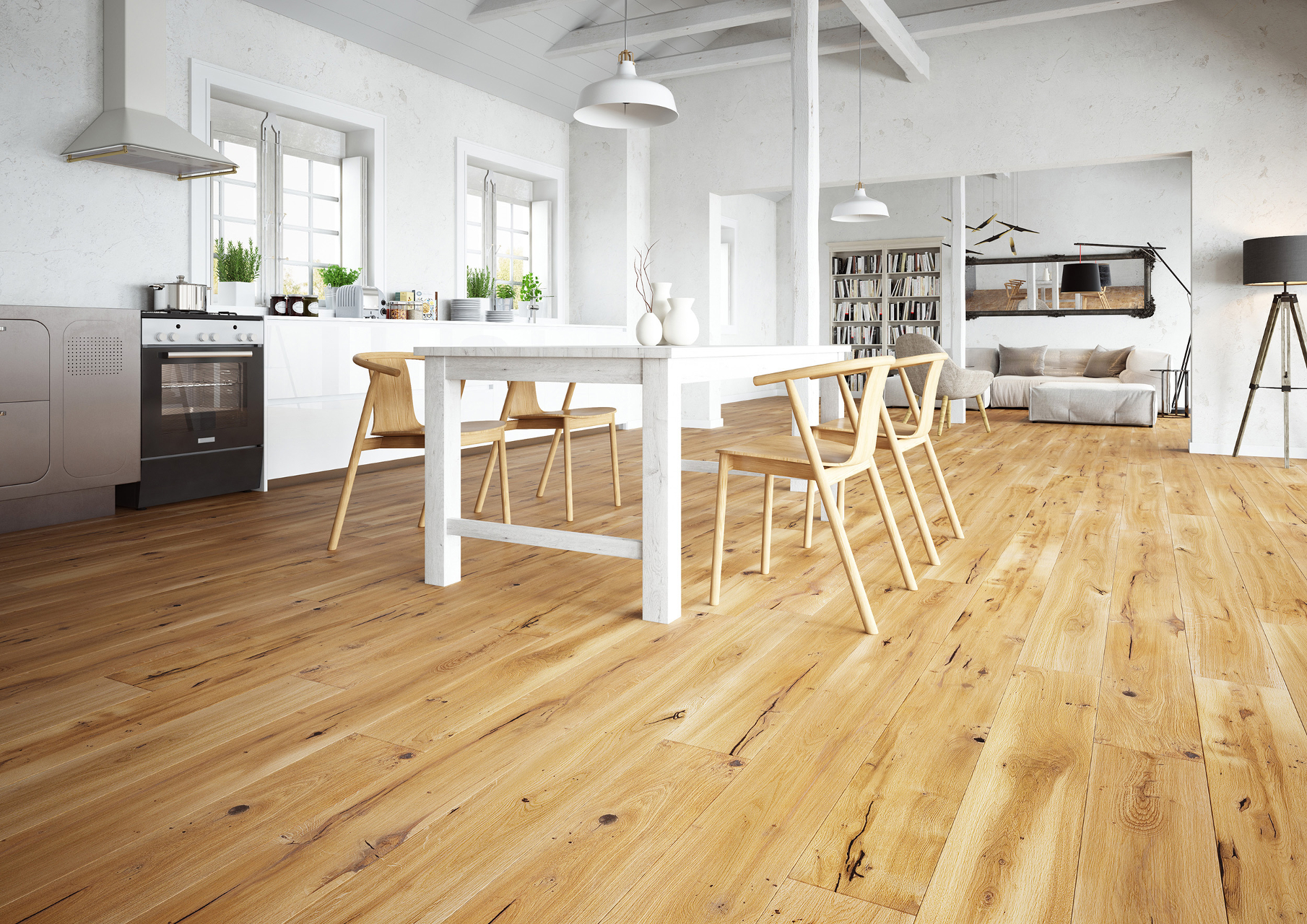 The rustic wood flooring from the Pure Vintage collection is the perfect background for highlighting modern furniture and stylish appliances. What's more, the texture of the boards is discernable. In addition, rustic floors are warm and very pleasant to walk on barefoot. It should be noted that Pure Vintage rustic floors can be successfully laid on piped or electric and floor-heating systems.
Taking care of rustic wood flooring
Oiled and varnished rustic boards should be protected with proper agent from Barlinek's offer immediately after installation. This will keep the beauty of the floor for years. On a daily basis, rustic floors should be swept or vacuumed. Wood flooring should not be washed with wet mops or flooded with water! Hard to remove stains are best wiped off with a damp cloth with Protektor Komplet (wood flooring finished with lacquer) or Magic Cleaner (wood flooring finished with oil). It is important that rustic boards be cleaned with the proper agents, which will not damage their natural structure.