Exotic wood flooring
Exotic wood flooring from Barlinek's spread delight with their authentic dark colour. Their bottom layers have a cross-shaped structure, characteristic of the Barlinek Board. On the other hand, the top coating is high-quality exotic wood flooring from carefully selected trees. Exotic wood flooring have a beautiful appearance, and are very durable. As a result, it can be used even in rooms that are used all the time. In addition, exotic wood boards can be laid on top of underfloor heating systems.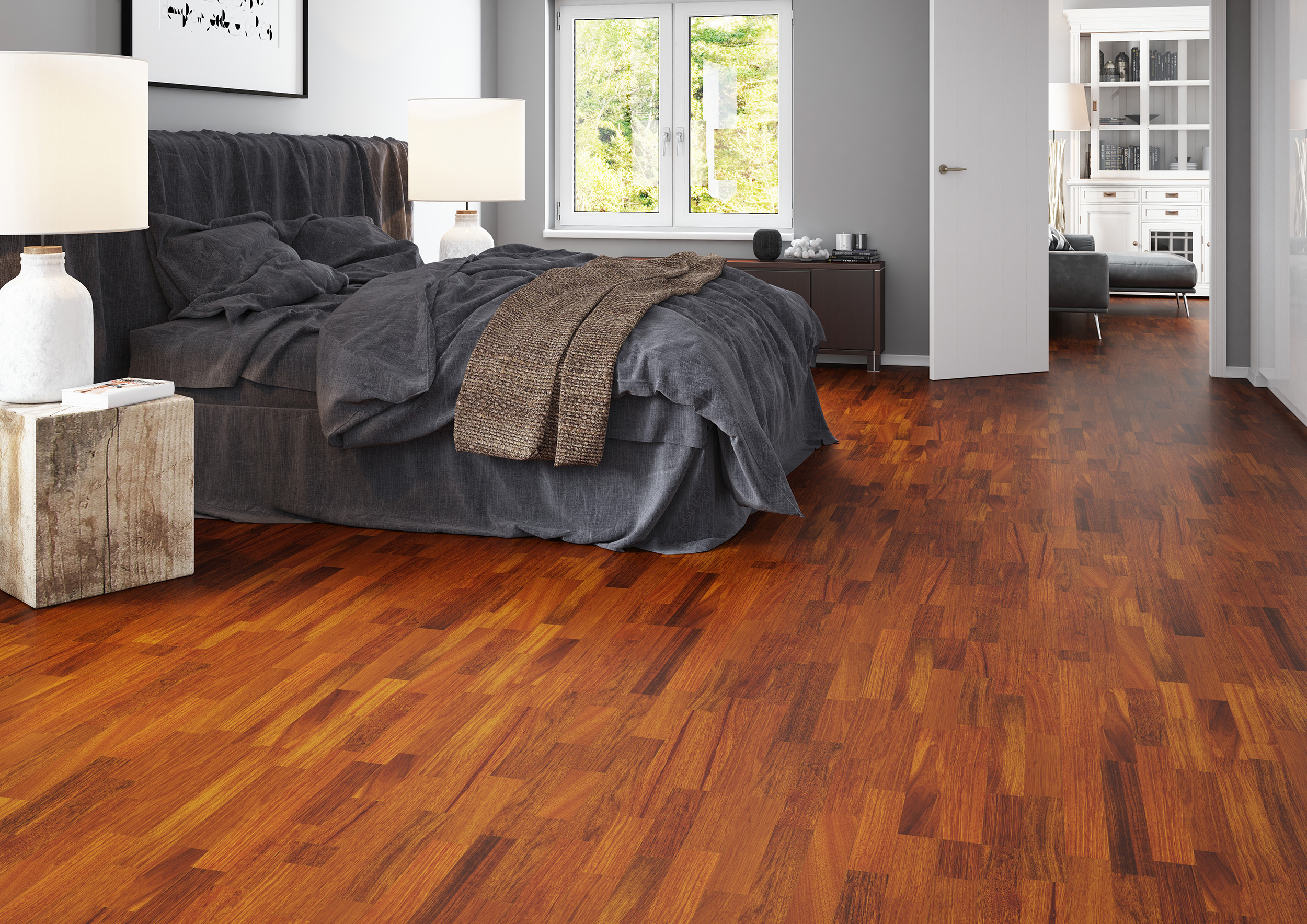 BARLINEK ENGINEERED WOOD FLOORING:
Exotic merbau, sapele and jatobe floors
Exotic engineered hardwood flooring from Barlinek are available in varieties finished in three types of wood. The first is the beautiful merbau. It has a brown-yellow shade, which strongly darkens with age. Exotic wood flooring have a characteristic golden-wood striation, additionally highlighted by varnishing. Another recommendation for exotic wood flooring is sapele. This board has a red-brown colour, with decorative knots. The last of the exotic wood flooring species is jatobe. It is characterised by golden-brown colours with a beautiful, decorative grain.
Exotic wood flooring

for interiors with character
Exotic wood flooring look great in spacious rooms. It is an excellent choice for lofts, libraries, restaurants and open spaces. Their dark colour looks really impressive. Dark exotic engineered hardwood flooring can cover the entire floor surface or be combined with brighter panels. It is a good way to divide space smartly.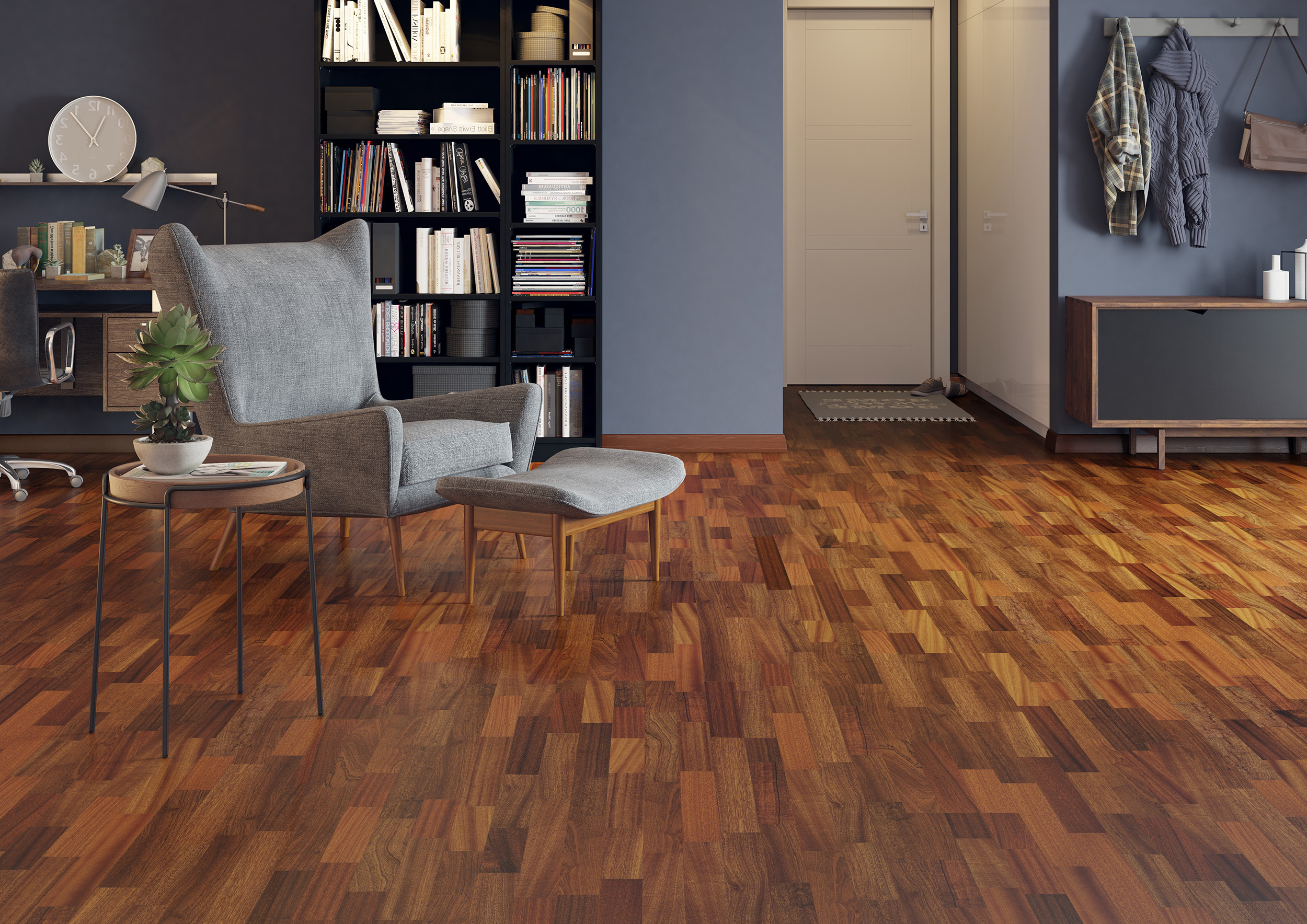 Dark exotic engineered hardwood flooring made of exotic wood are best combined with bright furniture. Appliances contrasting with the floor look very impressive, and their beauty is highlighted. The walls in rooms with exotic wood flooring should be kept in delicate colours – white, cream, beige or light grey. The frames for the floors can be made of plinths made of exotic wood or those covered with white paint – it's a fashionable solution, often chosen by interior designers.
Exotic wood flooring in Barlinek boards are very easy to lay. They are installed really fast in a floating system. All thanks to innovative locks – BARCLICK® and BARLOCK 5Gc® Even after laying, the exotic wood boards do not require additional finishing.
Exotic wood flooring

from the Life collection
Barlinek presents exotic wood flooring from the Life collection. These are decorative boards which will become a beautiful decoration for any room. They have a unique layout, in which one board features three wood lines. This solution makes the exotic wood flooring resemble classic parquet. Exotic Life line boards are finished with Professional varnish. They are noteworthy not only for their unique colour, but also for their decorative, delicate, wood pattern, i.e. the graining highlighting the natural quality of the raw material.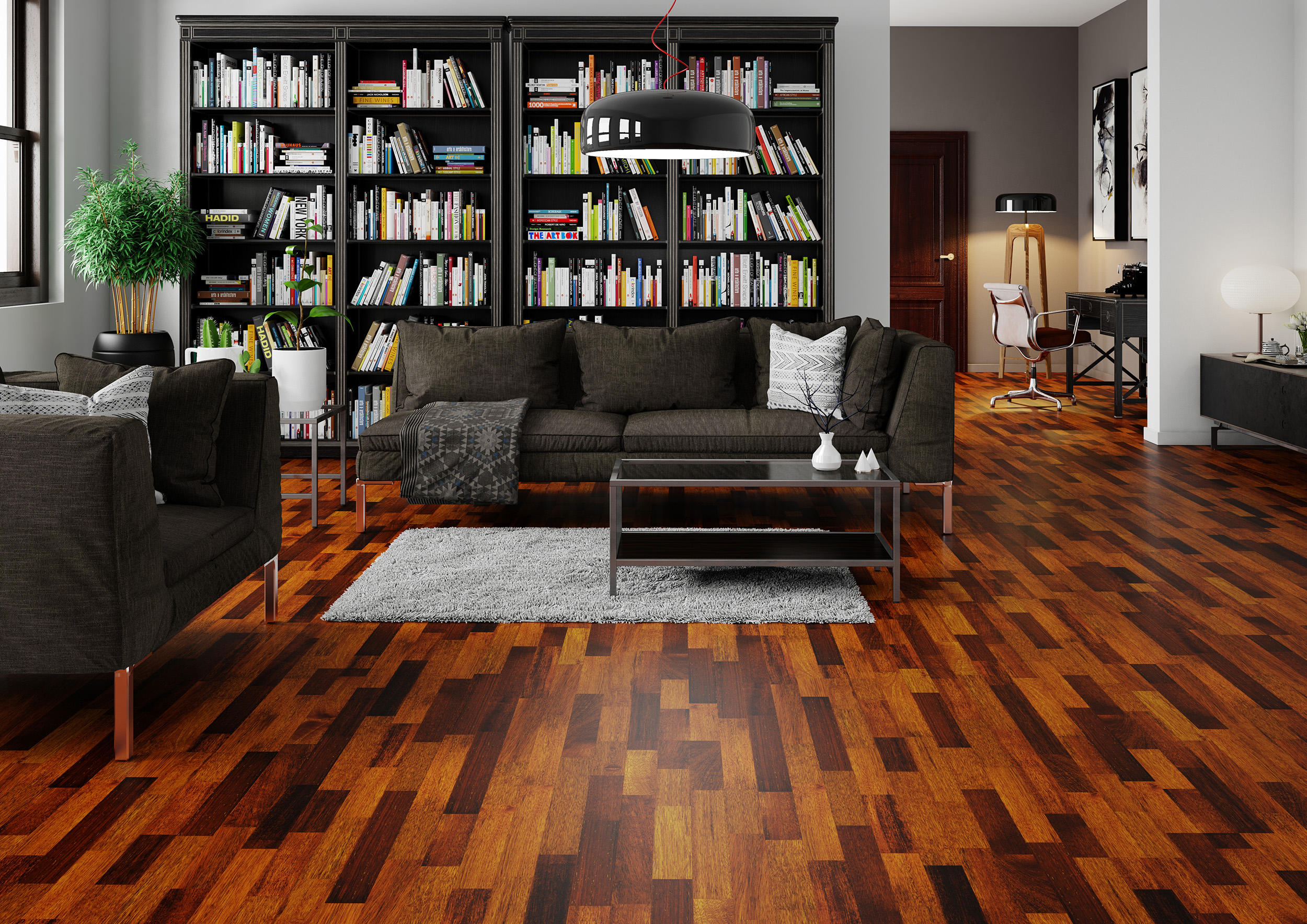 Maintaining and renovating an

exotic wood flooring
Engineered wood flooring in exotic wood have a characteristic pattern which masks out possible dirt. The varnish additionally prevents the penetration of dust into the wood structure. The basic care recommended for the exotic wood flooring is vacuuming. Harder stains can be washed off with a slightly moistened cloth. On a daily basis, the floor can also be washed with Concentrate Protector. Once in a while, it is worth refreshing it with the help of the Complete Protector and Gloss Protector. How quickly the floor gets worn depends on the intensity of its use.
The renovation of an exotic wood flooring consists of sanding the damaged layers and applying a new coating on it with a suitable polyurethane varnish formulated specially for wooden boards. Ideally, such work should be carried out by a specialist. It is slightly easier to renew the brushed exotic varnish, which you can do yourself. You can read more about the details of this kind of cleaning on the Barlinek website in the "Maintenance of varnished floors" section.